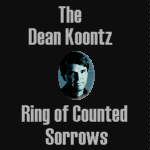 This Dean Koontz Ring of Counted Sorrows is open to all Dean Koontz fans with a web site!

To join this ring, please fill out the form below.

You will be sent a copy of the HTML code for you to put on your site via email.

It is very important that you put the code on right away as I do check out each site as I receive the email that is has been added to the quene. Also, please remember to change your site id#, name, and email address in the code.
Thanks, Pandora